oh....and a hat too....
so i finished up my holiday knitting, well, ok fine, the bulk of it....i finished my scarves.....i still have to do the sweater.....lets start with the finished stuffs....
sooooooooooooooooo i saw on crafster this hat that someone made based on a hat at banana republic...i thought it was so cute....and i wanted to knit something quick for my sister because ya know, she got me these labels....and i thought i should make her something with said labels....so i made this hat....
but, she's got a big 'ol melon head....ok fine, that's kind of mean, but, whatever...her head is a bit bigger than mine, and this hat was kind of short on me....but i loved it with this big button.....we have this huge tin of buttons....but nothing large enough, and now that the rag shop is closed and joanne's is too far away, i tried michaels anyways, and i found this bag with vintagey type buttons, and i looked through and there were a few big buttons, but mainly small ones, but i saw this black one and thought it would be great, and it had a couple of large flat white ones too i thought might work if i were so to choose to make this hat again....and as it turns out, i decided to make the hat again
.....for my sister....and i had picked up this blue when michaels had this crazy sale on yarn....and i thought the blue was nice, but what to do with it, so i tried the hat again, made the buttony seed stitch part longer and made the whole hat longer too....and its nice and long and covers the ears quite nicely...and then found a use for the large white buttons that came in that bag 'o buttons....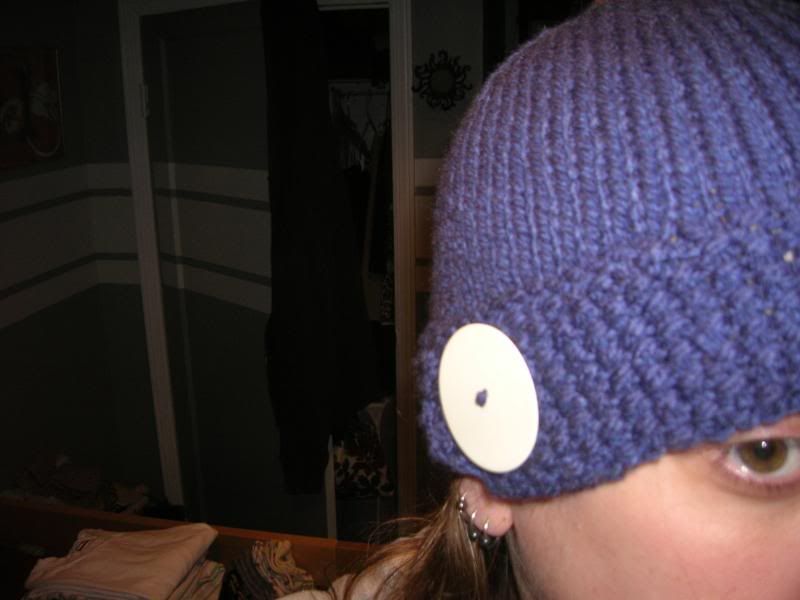 see? big flat white button and it totally works on the hat.....don't ya think?
i think so.....i hope she likes it....she hasn't seen my grey onen yet....and i might admit that i do look so freakin adorable in said grey hat.....so, we kind of look alike, so she should look good in the blue one, and blue is her favorite color.....
i wish i had taken a picture of what the label looks like inside, oh, wait, i have one of the label in my hat somwhere....let me look for it....i found it! its a little blurry....i took it on my cell phone.....but hooray for hand knit! very exciting.....
so, then i had started out wanting to knit for my 3 aunts, and 3 coworkers, 6 scarves, then found out we're not exchanging with one side of the family, so that's 2 aunts and 3 coworkers- 5 scarves, then i decided i really should knit for one other coworker who's cube is right across from mine and we talk all the time and like, she's my sis at work ya know? so that makes 2 and 4......and whilst knitting one for one of my coworkers i decided i didn't like it, and knitted another one.....sooooooooooooooooo i ended up with 8 scarves, well, i only knit 7 this christmas, one i knitted last year but i'm gifting it this year......
ok, so on to the scarves....first up we have the scarves for my co-workers...
this one is the one i ended up making for my boss lady sue...i had started off with the my so called scarf (which will make its appearance later on in the post....) but instead i made this scarf i found on ravelry....just browsing about, looking for something knit with worsted weight yarn and free....did i ever mention i love ravelry? i mean, you can search by yarn and find patterns, its awesome!
anywho, here's the scarf i knitted for bossy lady, knitted with patons decor on size 10s....i fell in love with this pattern....and it went quite quickly too i might add....i made a few mistakes along the way, but, i don't think they're noticable, not even to me, i mean normally i see my eff ups and non knitters can see them....











and this is what i did with the label.....i put a lot of them on an angle


ok and now here's a scarf for lena, one of the ladies in my department....she takes the bus, so i wanted to make her a nice warm smushy scarf, so i used the bernat softee chunky and ever since i saw wavy from knitty i just really wanted to knit it, and this worked out great, i did it on size 11s and it turned out real nice and smushy.....so here's my smushy pink wavy for lena:

and here is the one i made for susan, she rounds out the sales audit department.....she's a short little woman, which is good because the scarf is only like 4ft long.....i used bernat bamboo, i think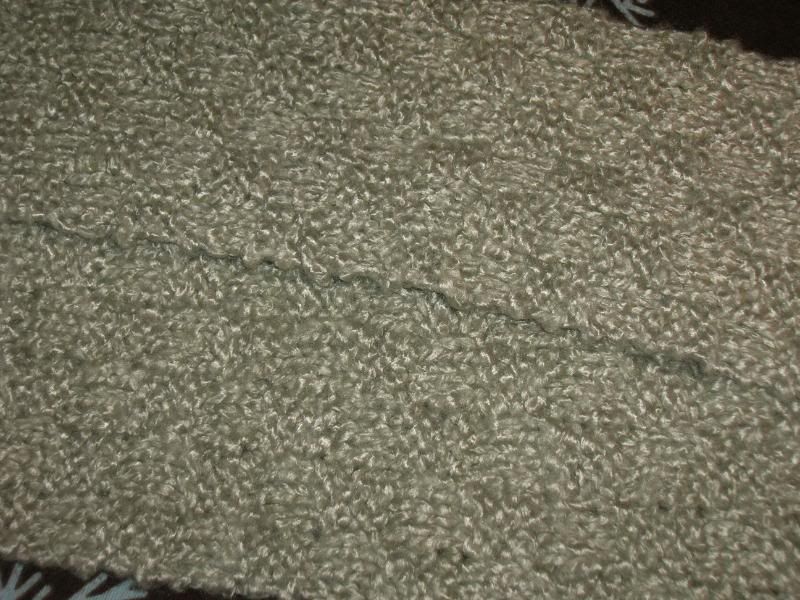 on size 10s? i think size 10s.....oh yeah just a basketweave pattern, nice and simple....
and this is for the last of the aero peeps...this is for keri....my "work sis"....she's seen me knit for everyone, i thought i'd knit for her too....granted i owe her armwarmers from last christmas.......yeahhh...........its patons rumor in spanish heather, 3 skeins on size 13s........
now the 2 scarves for my aunts.....one is argosy with plymouth encore colorspun and the other is yarn harlot's one row handspun in sws in natural crimson....
so the aunt i made the sws one for lives down the shore on the bay, so i think its kind of appropriate that it looks like a sunrise....
and finally, we got here the my so called scarf i had made and the scarf i made last year.....the my so called scarf i am going to gift to my boyfriend's sister.....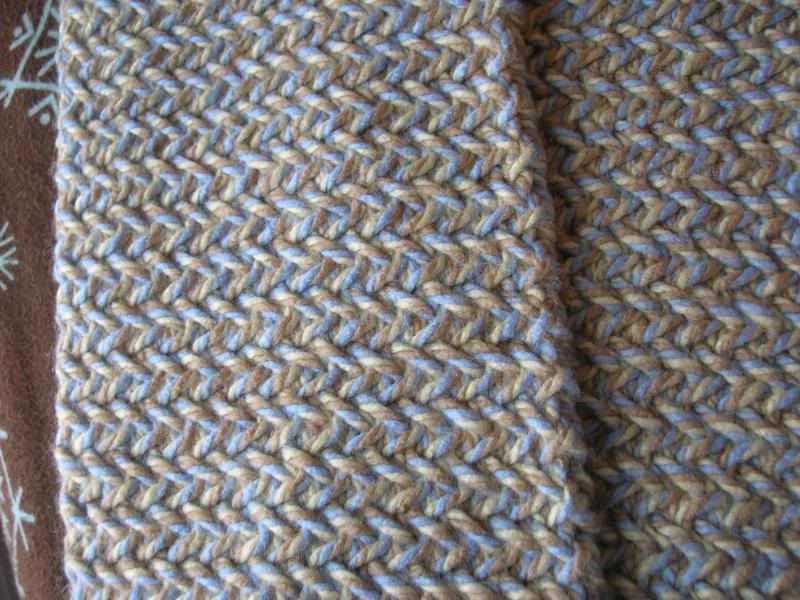 and this one i am giving to la abuela de mi novio.....its made with manos del uruguay....and his grandmother (and mother) was born there.....i hope she likes it.....i have to learn how to say i knit this for you in spanish....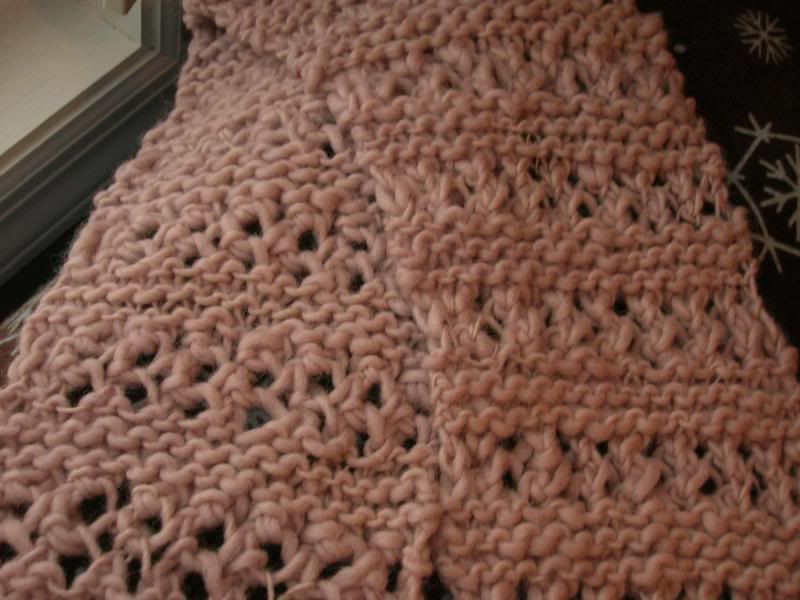 and now, a sweater update................
i have like 5 inches left to do on the body, and the sleeves.........can i get it done in 8 days???????